The Power to Connect, Convey, Control, and Customize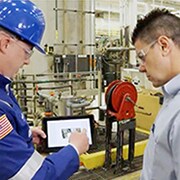 Companies that generate, store, convert, or convey power need fluid systems that provide leak-tight performance. From nuclear, hydroelectric, thermal, gas- and coal-fired plants to combined cycle and cogeneration facilities,
Swagelok stands behind the power industry with the products, services, and training to perform under pressure. These pressures can come in many forms including:
Costly problems like vibration, leakage, thermal shock, and improper installation that may also lead to safety concerns
Evolving environmental regulations that demand engineering and fabrication support to reduce greenhouse gas (GHG) emissions
Changing safety and industry standards such as ASME Section III for the nuclear sector that challenge companies to keep pace.